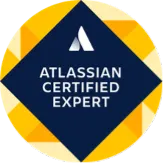 Transformation through digitalisation
Automate processes and increase execution speed and operational efficiency throughout your organisation by applying agile principles.
80% of global companies will migrate to the cloud by 2025, leaving behind the era of local servers and data centers. According to Gartner studies, nearly 50% of employees will continue to work remotely in the post-pandemic era.
The transition to a hybrid way of work is causing companies to quickly revise their policies and infrastructure to accommodate the needs of employees while remaining competitive.
Cloud technology and remote collaboration have transformed the way people share data and information, enabling companies to:
adapt quickly to new trends
produce major changes in a shorter time
increase delivery speed
reduce time to market
increase team productivity and well-being
Our organisational transformation solutions, together with the interactive tools in the Atlassian suite, enable teams to stay aligned and actively participate, regardless of where they work from while streamlining licensing costs.
Digitalise your organisation quickly and efficiently
Know from the start which tools and processes are right for you to optimise your resources
From technology expertise to strategic transformation, we'll support you throughout the process. We perform an audit, define the plan and advise you on the right mix of solutions and add-ons.
Gain time to be efficient where it counts
Free your team from migrating and configuring the Atlassian ecosystem. Leave the implementation and customisation of workflows to us.
Minimize risk to deliver agile
We ensure the team has everything they need to deliver value faster through technical support, upgrades and infrastructure maintenance.
Recommended Atlassian products and services
Jira Software
Jira Work Management
Jira Service Management
Jira Align
Statuspage
Opsgenie
Confluence
Trello
Bitbucket
Sourcetree
Bamboo
Fisheye
Crucible
Licensing and counselling
Business process analysis
Configuration audit
Implementation
Migrations
Maintenance & Upgrades
Training
Licensing and counselling
Licensing and counselling
We make sure you choose the right mix of products, add-ons and packages, helping you reduce administration costs.
Read more
Business process analysis
Configuration audit
Implementation
Migrations
Maintenance & Upgrades
Training