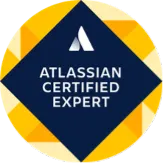 Accelerate the implementation of Scrum or Kanban methodologies with our support through Atlassian tools. Our experts are with you to ensure you achieve your goals on time and within budget.
Agile has become one of the most popular methodologies for developing projects due to its flexibility. First implemented in the software industry, it was quickly adopted in other industries as the preferred method to support change. The iterative approach allows teams to adjust the output along the way and increase the speed with which they deliver value to the market.
Experience in Agile projects has shown us that changing mindsets and adopting a new way of working can come with multiple challenges. Resistance to change, shallow documentation and lack of clarity on roles and responsibilities are just a few of them.
Before we recommend Jira, Confluence, or other specific add-ons, we focus on business processes and needs. We understand the requirements and how we can improve workflows and then guide you on the right choice of tools.
Make informed decisions — support agile transformation
Positive change to achieve high performance
We ensure that workflows are aligned to the needs of the organisation, and together, we establish the requirements for the right tools to support Agile practices.
Adjust the suite around your needs
Do you prefer Scrum or Kanban? We help you set up and customise tools and access levels, building the right framework to make progress.
Benefit from periodic improvements
We guide you on the aspects that protect you from vulnerabilities and provide prompt support so that you can use the world's most widely used project management tool to its fullest capacity.
Recommended Atlassian products and services
Jira Software
Jira Work Management
Jira Align
Confluence
Licensing and counselling
Business process analysis
Configuration audit
Implementation
Migrations
Maintenance & Upgrades
Training
Licensing and counselling
Licensing and counselling
We make sure you choose the right mix of products, add-ons and packages, helping you reduce administration costs.
Read more
Business process analysis
Configuration audit
Implementation
Migrations
Maintenance & Upgrades
Training