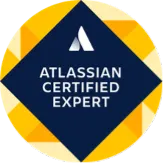 Workshops delivered by Atlassian-certified specialists to use the suite to its fullest capacity. We give teams all the knowledge they need to achieve the skills they want and greater autonomy when using Atlassian products.
There's plenty of information on the internet about Atlassian tools. What's very hard to find, however, is personalised advice that provides detailed answers to performance issues, workflows, and business issues specific to your organisation.
Of course, self-taught users can find ways to solve certain tasks online, but an Atlassian expert can bring to the table the hands-on experience and behind-the-scenes information that can help you solve the same task in infinitely less time at less cost.
It can also happen that you consider certain ideas impossible to implement or certain blockages impossible to solve. With the help of the guidance provided by Atlassian experts, you will find solutions to difficult problems, recommendations on how to adapt the tools to your daily needs and the necessary plugins for customised reports, configurations and specific requests.
Life in Codes approaches these challenges through preparation and proper training of the team in all the secrets of the Atlassian suite.
Flexible training services, custom-tailored to the needs of the team
Free situation assessment
We discuss tools and integrations used and review the roadblocks. Further on, we identify the right type of training based on this discussion.
Online or in-person training
We deliver various types of training: workshops recorded and delivered online, remote or on-premise workshops focused on the practical use of tools, as well as documentation of work procedures.
Diverse catalogue of subjects
We cover a wide range of discussion topics, both technical and strategic, with business impact - from Agile methodology and accessibility to DevOps practices. We also organise hands-on workshops where we learn how to use Atlassian tools, going through all the specifics and functionalities.
Sessions held by certified experts
Life in Codes instructors hold multiple Atlassian certifications and have hands-on experience working in different industries, knowing how to adapt the information to various types of teams and organisations.
We start with an introductory discussion about the level of knowledge, starting points and content of the training.
We prepare the necessary materials based on the needs of your team.
We deliver the training in the desired format: recorded workshops, remote or on-premise workshops.
We cover the entire Atlassian suite
Jira Software
Jira Work Management
Jira Service Management
Confluence
Bitbucket
Bamboo
Access
Crowd
Other Workshops & Trainings
Libra Internet Bank achieved an increase of 103% in user stories delivered by the team and a 99% increase in their velocity.
RESULTS
From nine sprints managed by two Scrum teams in Excel to seven functional Scrum teams
Management of the entire bank project portfolio in Jira
Read the Case Study
Eliminate inefficiencies between IT Ops, Dev and other teams to deliver great customer and employee experiences.
Transformation through digitalisation
Automate processes and increase execution speed and operational efficiency throughout your organisation by applying agile principles.
Accelerate the implementation of Scrum or Kanban methodologies with our support through Atlassian tools.
Modernize and automate processes, align teams, optimise resources, and reduce divergence between test and production.
code lines in script and custom integrations
client requests successfully completed
Not sure which option fits you best?
Book a free, zero-obligation consultation session to get the guidance you need.