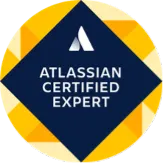 Atlassian migration services
Whether you're migrating from on-premise to the Cloud or from other solutions in the Atlassian ecosystem, we help you plan and make sure you don't lose time and important data.
Organizations are facing ever-increasing demands and are therefore looking for ways to expand their infrastructures. But scaling on-premises infrastructure can be extremely expensive, including hardware costs, software upgrades, staff training, and many other issues.
Cloud technology has been a game-changer, giving organisations the ability to scale up or down their infrastructure as their needs change.
Moreover, Gartner predicts that by 2025, 80% of organisations will abandon traditional data centres, with cloud infrastructure being considered a much more cost-effective, fast, secure, and highly controllable option.
But migrating to the cloud can be an unpleasant process if executed without proper planning, testing and execution.
As an Atlassian migration partner, we ensure you avoid data loss, interruptions and downtime and seamlessly integrate with your existing internal applications.
Whether you're migrating to the cloud or from other solutions, Atlassian products are highly flexible and compatible with most existing tools. We ensure optimal integration and traceability across the entire portfolio, regardless of complexity.
Enjoy successful migrations with no surprises
From on-premise to migrating Atlassian Cloud
We transfer all data and functionality from the on-premises work environment to the Atlassian Cloud with zero impact on daily operations. We guarantee successful migrations and data accuracy and work closely with teams to maximise resources where they are needed most.
Migrating from other solutions to Atlassian
Regardless of the solution you want to migrate from (Bugzilla, Zendesk, Monday, ServiceNow, etc.), we can easily adapt to any requirements across environments, architectures, and toolsets. Atlassian products fit the way you work, and the flexible infrastructure, various integrations and applications available, and the advanced level of security ensure your ability to grow and scale quickly.
Evaluating the decision to move to the cloud
We check and evaluate the ROI as well as any risks and bottlenecks. We consider data compliance, plugins and integration with your other existing tools and systems and provide you with an objective roadmap to guide your cloud migration.
Migration from Server to Data Center
500+ users using server products? In this case, migrating to Data Center could be the most suitable option. Our experts have performed multiple complex migrations and have the expertise to handle any kind of transition. We support you in every aspect of migration: gathering requirements and defining success criteria, clarifying all dependencies, planning and documenting the best approach for migration, delivering and executing a migration strategy tailored to your organisation's requirements.
We evaluate the objectives, the status of the applications, the migration strategy and the migration method used.
We plan the actions, check the configurations, evaluate the amount and complexity of the data and define the migration plan.
We prepare the migration checklist, check server versions and confirm that all applications have been added to the migration plan.
We make a copy of the data before running the migration test and validate that everything is going according to plan. We then perform the migration and make sure to redirect all users to the new destination.
We remain available after the final migration to provide you with full support and team training.
We cover the entire Atlassian suite
Jira Core devine Jira Work Management
Jira Software
Jira Service Management
Confluence
Bitbucket
Crowd or other third-party user management applications become Access
Jira Core
Jira Software
Jira Service Management
Confluence
Bitbucket
Bamboo
Migration from other solutions
Jira Work Management
Jira Software
Jira Service Management
Confluence
Bitbucket
Bamboo
Libra Internet Bank achieved an increase of 103% in user stories delivered by the team and a 99% increase in their velocity.
RESULTS
From nine sprints managed by two Scrum teams in Excel to seven functional Scrum teams
Management of the entire bank project portfolio in Jira
Read the Case Study
Eliminate inefficiencies between IT Ops, Dev and other teams to deliver great customer and employee experiences.
Transformation through digitalisation
Automate processes and increase execution speed and operational efficiency throughout your organisation by applying agile principles.
Accelerate the implementation of Scrum or Kanban methodologies with our support through Atlassian tools.
Modernize and automate processes, align teams, optimise resources, and reduce divergence between test and production.
code lines in script and custom integrations
client requests successfully completed
Not sure which option fits you best?
Book a free, zero-obligation consultation session to get the guidance you need.