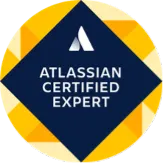 Maintenance and upgrades for the Atlassian suite
We become part of your team and support work processes through infrastructure maintenance, application monitoring and testing, technical support, incident resolution and upgrades.
Administration of the infrastructure and the entire suite of applications used in the organisation is time-consuming and distracts teams from the important projects they are working on.
Additionally, most issues can be avoided by proactively engaging in application monitoring and testing and resolving incidents before they have a negative business impact.
Life in Codes specialists keep the Atlassian infrastructure up to date without interrupting the teams' work: updates, incident resolution, implementations and processes, and application support.
We configure, manage, support and troubleshoot so you can enjoy improved performance of the Atlassian ecosystem.
Less Atlassian administration, more uninterrupted attention where it matters most
Upgrades for the entire Atlassian suite
We keep the Atlassian infrastructure up to date without interrupting the work of the teams. We can update the entire suite of tools or only certain tools and systems, including customised ones. We make sure you get regular optimisations to prevent incidents and improve database and application performance.
Application and infrastructure maintenance
We provide maintenance for the entire system of applications, or only a part of them, depending on the needs. We handle monitoring, troubleshooting and solving critical issues. Together we choose the right monitoring software and SLA and the types of reports needed.
Available when you need it
Together, we define both the type of support desired and the SLAs for response and problem resolution. We provide support for all Atlassian products, whether in the Cloud or Data Center, on-demand audits, application deployment and configuration guidance, and assistance during installation and updates.
We schedule an introductory discussion to diagnose the situation and/or choose the recommended version.
We evaluate if there are applications or other elements that will not be feasible in the new version and check what needs updating (Java, database, servers, Elasticsearch, etc.)
We apply the desired changes (such as SSL configuration) to any files you've customised that will be replaced during the upgrade.
At the end, we test and validate the changes made to avoid any errors.
We cover the entire Atlassian suite
Jira Software
Jira Service Management
Opsgenie
Statuspage
Confluence
Trello
Bitbucket
Sourcetree
Bamboo
Fisheye
Crucible
Libra Internet Bank achieved an increase of 103% in user stories delivered by the team and a 99% increase in their velocity.
RESULTS
From nine sprints managed by two Scrum teams in Excel to seven functional Scrum teams
Management of the entire bank project portfolio in Jira
Read the Case Study
Eliminate inefficiencies between IT Ops, Dev and other teams to deliver great customer and employee experiences.
Transformation through digitalisation
Automate processes and increase execution speed and operational efficiency throughout your organisation by applying agile principles.
Accelerate the implementation of Scrum or Kanban methodologies with our support through Atlassian tools.
Modernize and automate processes, align teams, optimise resources, and reduce divergence between test and production.
code lines in script and custom integrations
client requests successfully completed
Not sure which option fits you best?
Book a free, zero-obligation consultation session to get the guidance you need.