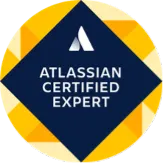 Licensing and counselling for Atlassian Products
Maximise your investment in Atlassian products. We ensure you choose the right combination of products, apps and licenses, helping you reduce administrative costs and simplify the entire process – from purchase to management and renewal.
Choosing, purchasing, and managing the entire Atlassian product portfolio can cause headaches and unwanted costs within your organisation. This process can prove highly complex even for experienced users, even more so in large organisations where we run into various types of contracts and licenses, renewals, upgrades, payment terms, downgrades, and user tiers.
Our team is with you every step of the way to eliminate these challenges – from choosing the suitable license to getting the best deal, implementation and training. Our customers get free full-service renewal management, software asset management, free trials and early price increase alerts.
Eliminate licensing complexity and reduce administrative costs
Get highly-lucrative license deals
We guide you in choosing the most suitable configuration based on the needs of your organisation, regardless of the type of hosting (Cloud, Data Center or Server). Obtain offers at the most advantageous price for each Atlassian tool that your organisation needs.
License optimisation and co-terming
Increase or decrease the number of licenses and adapt their configuration to the organisation's needs. Get extended licensing and flexible payment terms, with the option to pay a single annual invoice. This way, you can better control costs and avoid missed renewals.
Light-fast renewals and upgrades
We track expiration dates and manage the license renewal process across your entire portfolio. We proactively send renewal alerts to ensure ongoing support and avoid late payment penalties. Do you want to increase the number of users? We inform you of all the options and guide you in making the best decision for the team.
Smooth and seamless transitions
Have you already purchased your licenses? Worry not - we can pick them up without you signing separate license agreements. We not only manage licenses for the Atlassian suite but also for the marketplace applications you use within your organisation.
We schedule an initial discussion to explore deployment options, user tiers and add-ons required for your desired functionality.
We design a custom offer based on your specific circumstances, activate your subscriptions and provide all licences.
We keep you updated with any important modifications to the product portfolio and notify you at least one month before expiration dates.
We cover the entire Atlassian suite
Jira Software
Jira Work Management
Jira Service Management
Opsgenie
Statuspage
Jira Align
Confluence
Trello
Bitbucket
Sourcetree
Bamboo
Fisheye
Crucible
Libra Internet Bank achieved an increase of 103% in user stories delivered by the team and a 99% increase in their velocity.
RESULTS
From nine sprints managed by two Scrum teams in Excel to seven functional Scrum teams
Management of the entire bank project portfolio in Jira
Read the Case Study
Eliminate inefficiencies between IT Ops, Dev and other teams to deliver great customer and employee experiences.
Transformation through digitalisation
Automate processes and increase execution speed and operational efficiency throughout your organisation by applying agile principles.
Accelerate the implementation of Scrum or Kanban methodologies with our support through Atlassian tools.
Modernize and automate processes, align teams, optimise resources, and reduce divergence between test and production.
code lines in script and custom integrations
client requests successfully completed
Not sure which option fits you best?
Book a free, zero-obligation consultation session to get the guidance you need.