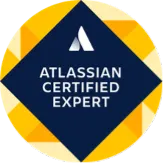 Atlassian suite implementation
We install all Atlassian products according to specifications, configure the necessary add-ons and workflows, delivering a complete, ready-to-use solution in the shortest possible time.
There are tens of thousands of options in the Atlassian marketplace, and you need a simple timeline or reporting solution. You spend time finding the right mix of tools and then configuring and integrating them with Slack, Teams, Salesforce, or other tools that help your organisation run. After some time, the requirements grow, and you need to customise the ecosystem. Sounds familiar?
Most Atlassian implementations require advanced specialist knowledge. Whether you're new to Atlassian or have been using the suite for some time, we can help you find the best approach for product deployment and configuration, integration with existing solutions, and custom development. Among the most frequent situations in which our expertise was requested are
Data import or migration
Creating projects, users, workflows, triggers, validators, conditions, filters, dashboards, and automation rules in Jira
Integrating Jira Service Management with the website (including the widget)
Customizing customer branding in the Jira Service Management customer portal
Adding channel filters to Jira Service Management
Recommending analytics-driven add-ons for Confluence, Jira, and Jira Service Management
Custom integrations with other tools and/or own systems
Building custom applications through the Jira API
…and much more
Free your team from Atlassian suite implementation
Gain time to focus on what matters
We configure Atlassian products to meet the requirements and make them usable from day one. Implementations, migrations and integrations done right increase your team's performance.
Get personalised training and support
After implementing and configuring the tools, we become part of the team and train you on how to use them effectively through demos, technical support and dedicated workshops online or at your premises.
Minimise risk and deliver value to market faster
Reduce errors or unforeseen situations and work more productively through a complete solution customised to your team's requirements, constantly providing value to your customers and ready to use in the shortest possible time.
We get to know each other and discuss your goals for the upcoming period
We help you choose the Atlassian consulting package that suits your needs
We sign the contract and receive administrator access if necessary
(there are situations in which we offer consultancy, and the implementation should be carried out internally)
Get access to our portal where company contacts can ask for assistance
You receive a report with the completed activities at the end of each month
We cover the entire Atlassian suite
Jira Software
Jira Work Management
Jira Service Management
Confluence
Trello
Bitbucket
Atlassian Access
Crowd
Libra Internet Bank achieved an increase of 103% in user stories delivered by the team and a 99% increase in their velocity.
RESULTS
From nine sprints managed by two Scrum teams in Excel to seven functional Scrum teams
Management of the entire bank project portfolio in Jira
Read the Case Study
Eliminate inefficiencies between IT Ops, Dev and other teams to deliver great customer and employee experiences.
Transformation through digitalisation
Automate processes and increase execution speed and operational efficiency throughout your organisation by applying agile principles.
Accelerate the implementation of Scrum or Kanban methodologies with our support through Atlassian tools.
Modernize and automate processes, align teams, optimise resources, and reduce divergence between test and production.
code lines in script and custom integrations
client requests successfully completed
Not sure which option fits you best?
Book a free, zero-obligation consultation session to get the guidance you need.