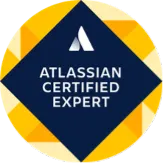 Configuration Audit (Health Check)
We review existing configurations and functional aspects and provide comprehensive reporting with detailed recommendations that you can implement quickly.
Whether you're just getting started with Atlassian or managing complex migration and consolidation projects, it's important to have a solid foundation to build on. At the same time, you need the tools you use in your day-to-day work to support solving specific business objectives in the most cost-effective way possible.
The Atlassian ecosystem is constantly evolving to meet the growing needs of organisations worldwide, and new applications and ways for teams to work more efficiently are emerging. With a certified local partner, you get objective insights and specialised guidance so your teams can focus mainly on delivering great customer experiences.
We perform a full audit of existing configurations, identify problems and gaps, and analyse both technical and functional aspects so that your teams are using the tools to their maximum capacity. Afterwards, we generate a report on the acquired data with informed recommendations and best practices that you can implement quickly.
Protect your investment and increase the Atlassian ecosystem performance
Get a meticulous evaluation of your current status
Through in-depth analysis, we determine how Jira, Confluence, Bitbucket and addons are implemented and used in the organisation. We diagnose problems, strengths and areas you can fix.
Receive precise recommendations
We provide detailed recommendations on how to improve your Jira, Confluence, and Bitbucket and what fixes to prioritise. We send a report with clear steps for the team to execute easily and quickly.
Invest efficiently in future configurations
Learn about best practices and governance rules to anticipate needed increases. We help you make the right decisions to accommodate the evolution of your Atlassian ecosystem.
We meet & greet, then sign an NDA
We receive administrator-level access to a work environment
Our experts verify the configuration according to industry best practices without interfering with the data
We document the results and propose the necessary changes
We meet to transfer knowledge and clarify any enquiries
Recommended products & solutions
Jira Software
Jira Work Management
Jira Service Management
Confluence
Bitbucket
Libra Internet Bank achieved an increase of 103% in user stories delivered by the team and a 99% increase in their velocity.
RESULTS
From nine sprints managed by two Scrum teams in Excel to seven functional Scrum teams
Management of the entire bank project portfolio in Jira
Read the Case Study
Eliminate inefficiencies between IT Ops, Dev and other teams to deliver great customer and employee experiences.
Transformation through digitalisation
Automate processes and increase execution speed and operational efficiency throughout your organisation by applying agile principles.
Accelerate the implementation of Scrum or Kanban methodologies with our support through Atlassian tools.
Modernize and automate processes, align teams, optimise resources, and reduce divergence between test and production.
code lines in script and custom integrations
client requests successfully completed
Not sure which option fits you best?
Book a free, zero-obligation consultation session to get the guidance you need.