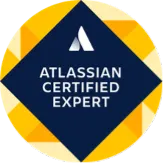 Business process analysis
We identify all business processes that can be optimised with Atlassian instruments, help you turn requirements into objectives and KPIs and provide a personalised plan for a smooth implementation of the solution.
The fast-paced digitalisation and transition towards a hybrid work environment have pushed companies to review their internal policies and infrastructure and rethink their strategies to remain competitive in this new era.
All these changes modified business processes and unveiled new growth opportunities. The old way of using tools and technologies is probably no longer performing as you would expect it to.
Over a decade of experience in international projects showed us a variety of ways in which the right configurations can serve business purposes and bring positive results. Schedule a consultation today and find out how to leverage digital tools to new requirements and raise license cost-efficiency.
We help you understand how to improve the way you deliver, how to rearrange teams and drive a sustainable transformation successfully.
Use the right tools in the right way
Focus on results, not on tools
We examine your challenges, workflows and objectives, build a personalised plan, adapt the Atlassian tool suite around your specific needs and ensure you're using everything correctly from the start.
Align teams and build frameworks for performance
Let your teams focus on what they do best. We bring together all the involved parties and define the necessary frameworks to deliver faster and more efficiently. Our certified consultants guide you along every step and provide advice on how to improve business processes efficiency.
Develop a sustainable foundation
Maximize team performance, and let us guide you through complex setups and cross-platform migrations. By building on an infrastructure tailored to your specific situations, you set the right context to generate repeatable results.
We schedule a meeting in which you can invite multiple teams that wish to implement their processes in Jira and/or Confluence.
We discuss current processes and challenges and take notes. We then come back with a proposal about how we can implement business objectives through efficient working tools.
Approve the proposal and purchase the necessary add-ons.
We carry out the implementation according to previous discussions and develop a proof of concept.
Now, it's your turn to test the workflows and send us your feedback on the experience.
We implement suggested modifications and deliver the final configuration.
We cover the entire Atlassian suite
Jira Software
Jira Work Management
Jira Service Management
Opsgenie
Statuspage
Jira Align
Confluence
Trello
Bitbucket
Bamboo
Fisheye
Crucible
Atlassian Access
Crowd
Libra Internet Bank achieved an increase of 103% in user stories delivered by the team and a 99% increase in their velocity.
RESULTS
From nine sprints managed by two Scrum teams in Excel to seven functional Scrum teams
Management of the entire bank project portfolio in Jira
Read the Case Study
Eliminate inefficiencies between IT Ops, Dev and other teams to deliver great customer and employee experiences.
Transformation through digitalisation
Automate processes and increase execution speed and operational efficiency throughout your organisation by applying agile principles.
Accelerate the implementation of Scrum or Kanban methodologies with our support through Atlassian tools.
Modernize and automate processes, align teams, optimise resources, and reduce divergence between test and production.
code lines in script and custom integrations
client requests successfully completed
Not sure which option fits you best?
Book a free, zero-obligation consultation session to get the guidance you need.