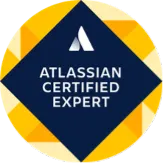 Are you looking for a solution to streamline your business processes? You are in the right place. As an Atlassian partner and reseller, we help you choose the right product configuration and streamline licensing costs.
Atlassian products support every team in your company to be more productive – from IT, marketing, and finance, to customer service. Choosing, purchasing and managing licenses, however, can be a tedious process.
We know all the tools and applications in the marketplace and are here to help you find the right tool for your organisation, deploy it smoothly and customise it according to your requirements.
Discover how we can assist you in the licensing process and get the best deals for your organisation.
Digitalise your organisation quickly and efficiently
Project and task management tool. Jira allows you to plan, track, and launch projects, as well as monitor and improve your team's performance and work schedule.
Streamline teamwork like never before. Jira Work Management offers customisable workflow templates, charts, dashboards, and reports for any process.
Simple and intuitive IT service management tool. Jira Service Management provides real-time reporting, multi-channel request submission, automation and integration with other products.
Confluence is the ideal database. It offers collaborative editing and content management, as well as a powerful and flexible search engine. Organise projects, create documents and discuss everything in one place.
Enterprise-wide visibility, security policies and control into your Atlassian cloud infrastructure. Access enables organisations of any size to add enterprise-level identity, and access management (IAM) features to the central administration console.
Jira Align seamlessly connects strategy with technical execution. Gain real-time visibility into aggregated data, align every team to the strategic goals, transform your organisation's Agile planning process, and optimise investments to deliver the greatest value to your customers.
Scalable Git repository built for productive teams. Bitbucket offers integration with Jira, code reviews, and a web interface for managing repositories.
To find out more details about the entire product line, visit the official Atlassian page, or request a discussion with a Life in Codes consultant.
code lines in script and custom integrations
client requests successfully completed
Licensing and counselling
Business process analysis
Configuration audit
Implementation
Migrations
Maintenance & Upgrades
Training
Licensing and counselling
Licensing and counselling
We make sure you choose the right mix of products, add-ons and packages, helping you reduce administration costs.
Read more
Business process analysis
Configuration audit
Implementation
Migrations
Maintenance & Upgrades
Training
Not sure which option fits you best?
Book a free, zero-obligation consultation session to get the guidance you need.