Jira Work Management is a comprehensive project and process management tool developed by Atlassian. It provides a powerful platform for teams to plan, track, and manage work. With features like task-level security, customizable workflows, and data-rich reporting, Jira Work Management fosters productive work environments.
Jira Work Management is ideal for companies in the tech sector, financial services, marketing agencies, and any organization where project management, collaboration, and data-driven decision making are key to success.
Many organizations struggle with disjointed project management tools, ineffective communication among team members, a lack of transparency in processes, and difficulties in tracking and reporting progress. Jira Work Management effectively tackles these pain points by offering a unified platform for project management, team collaboration, customizable workflows, and robust reporting features. It fosters transparency and ensures everyone is on the same page. Plus, with its automation rules, it ensures no step in your processes is overlooked.
Jira Work Management is Free with your Jira Software plan!
Learn more about our Atlassian licensing benefits.
Jira - Designed for Business Teams
JWM is used by diverse teams - marketing, HR, finance, and operations, etc. - to organize their tasks, manage projects, streamline workflows, and gain insights from comprehensive reporting tools.
Design and manage your team's workflows to align with your distinct business requirements. No matter the scale or complexity of your operations, Jira Work Management allows you to tailor workflows to reflect your unique business processes.
Jira Work Management integrates with over 3000+ apps, expanding its functionalities to meet every business need. Seamlessly connect with tools like Google, Dropbox, and Figma, enhancing productivity and teamwork.
Drive efficiency in your business processes with Jira's intuitive automation rules. Automate common actions, preventing oversights and ensuring your business operations are seamless and consistent.
Robust Task-Level Security
Safeguard your confidential data with Jira's advanced task-level security. Control task visibility and ensure that only authorized team members can access sensitive information, bolstering your organization's data security.
With JWM's comprehensive visualization capabilities, you always have a clear, in-depth view of your team's tasks, progress, and performance. Use the customizable Kanban, timeline, list and calendar views to improve workflow efficiency and always stay informed and ahead.
Customizable Team Templates
Kickstart your team's productivity with our extensive range of pre-made templates. Whether it's marketing, HR, finance, or any other business function, our templates are designed to get your team working from day one. Choose a template that best suits your business needs and customize it to fit your specific workflows and processes.
Delight Your Teams with JWM's Intuitive UX
List View
Calendar View
Timeline View
Kanban Board View
List View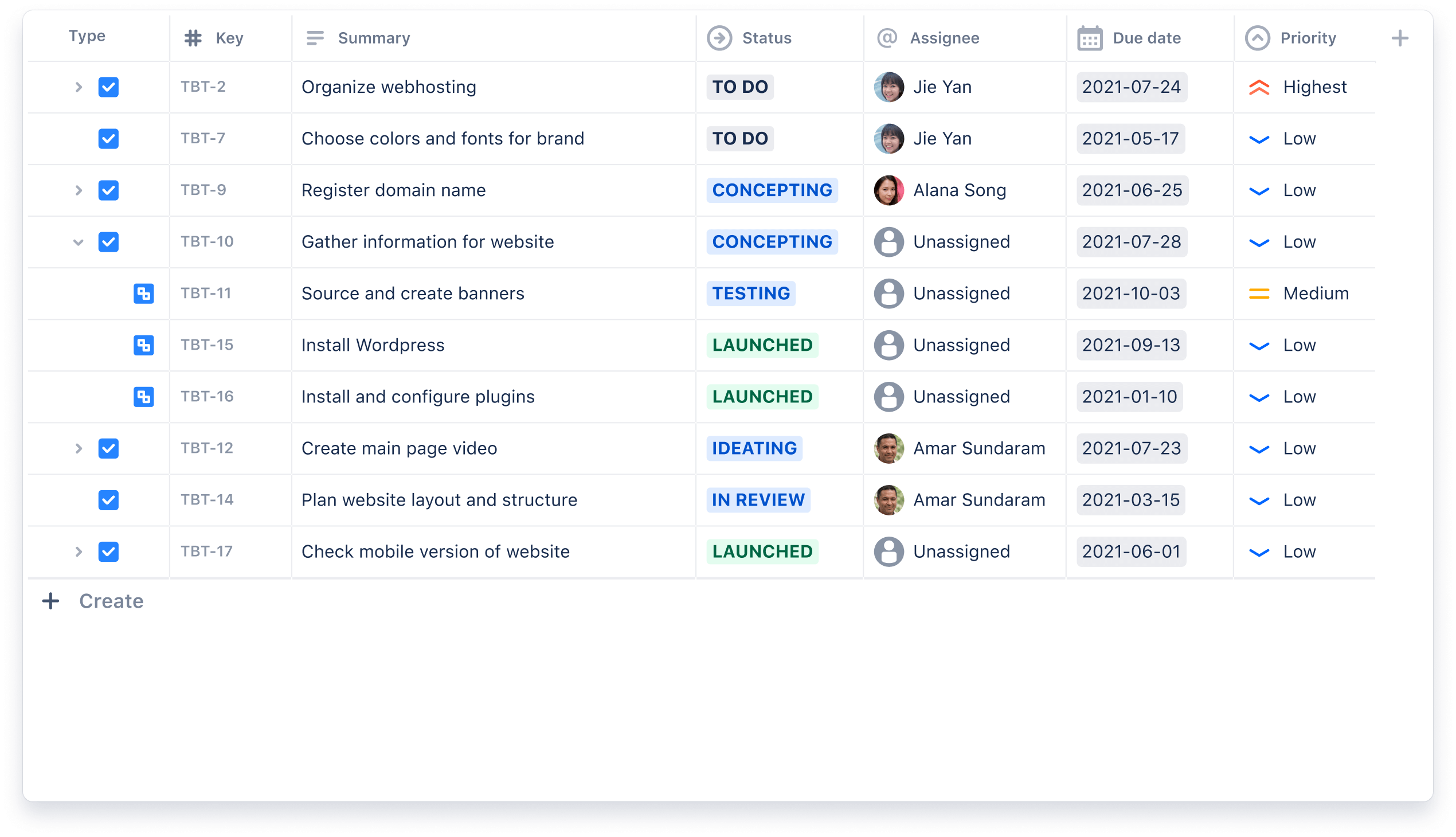 Calendar View
Timeline View
Kanban Board View
Templates designed for business teams
Create new projects in seconds from dozens of carefully crafted templates that span every team.