Bitbucket is a Git repository management solution designed to facilitate collaboration between development teams. As an Atlassian product, Bitbucket is fully integrated with other tools in the Atlassian suite, providing a seamless workflow for developers. With Bitbucket, code collaboration becomes easier and more efficient, leading to faster development cycles and higher code quality.
Bitbucket is more than just Git code management. It provides branching strategies, inline commenting, and robust workflows to streamline your development process. From startups to enterprises, Bitbucket is the go-to solution for teams looking to enhance collaboration, reduce errors, and bring their products to market faster.
Our team of certified Atlassian experts will guide you through the entire lifecycle of Bitbucket implementation, ensuring that the solution is tailored to your specific needs and goals. Discover how we can assist you in the
licensing process
and get the best deals on Atlassian Bitbucket for your organization.
Atlassian DevOps and Bitbucket Integration
Atlassian DevOps, a comprehensive set of tools and practices, aligns perfectly with Bitbucket to form a cohesive solution for the entire development lifecycle. From planning to coding, testing, deploying, and monitoring, the integration between Atlassian DevOps and Bitbucket ensures a streamlined workflow and robust collaboration. There are a few ways how this integration benefits you:
Atlassian DevOps and Bitbucket integration allow your team to move seamlessly from idea to deployment within a single environment, improving efficiency and reducing friction.
Automated CI/CD Pipelines
Leveraging Bitbucket's built-in continuous integration and continuous deployment (CI/CD) capabilities, the integration automates testing and deployment processes, enabling quicker releases and more reliable code.
With Bitbucket at the core of the development process, teams can work together more effectively, reviewing and iterating code through comprehensive collaboration tools.
Both Atlassian DevOps and Bitbucket adhere to industry-leading security standards, ensuring that your code and processes are protected at every stage.
Combined with Atlassian's monitoring and reporting tools, Bitbucket provides real-time insights into code quality, performance, and security, allowing for proactive issue resolution and continuous improvement.
Whether you're a small team or a large enterprise, the integration scales with your needs, providing a flexible and powerful solution for development teams of all sizes.
Unlock the potential of efficient service management
The integration between Atlassian DevOps and Bitbucket is more than just a technical combination; it's a strategic alignment that brings your development processes to the next level. By connecting these powerful tools, you foster a culture of collaboration, automation, and continuous improvement within your organization.
Stay Current with Jira and Bitbucket's Seamless Sync
Track Real Time Progress with Code
Deployment Status Visibility
Real Time Development Status
Create Issues from Code Review
Automate Repetative Tasks
Track Real Time Progress with Code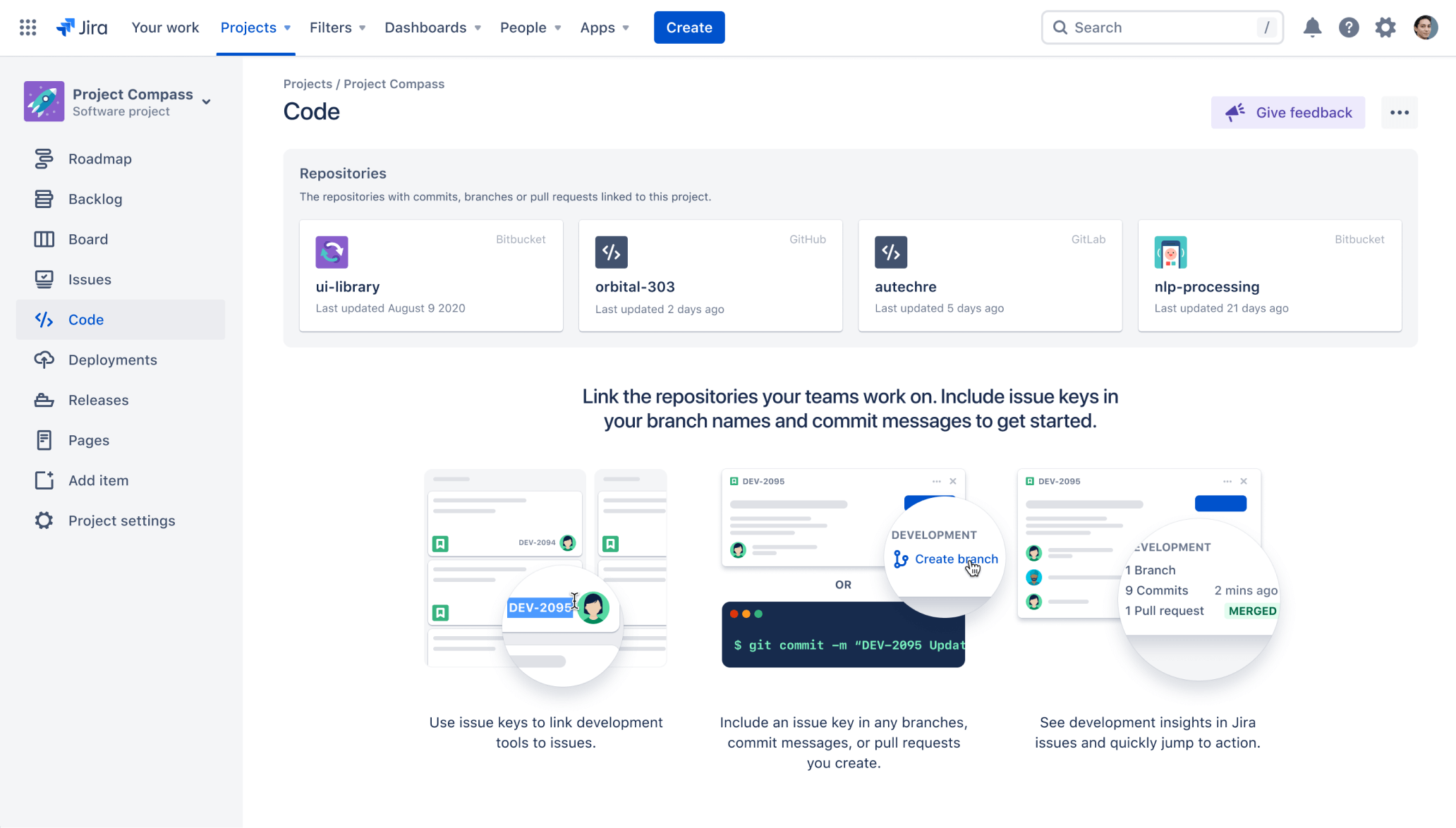 Deployment Status Visibility
Real Time Development Status
Create Issues from Code Review
Automate Repetative Tasks
Read Our Articles about Bitbucket
Updated: August 2022 Since we are often being asked, I decided to put together this list, a personal recommendation for the must-have apps (formerly add-ons)
Read Now
Compass is a developer experience platform designed to unify your distributed software architecture and the teams that collaborate on them. It serves as a mission control for your distributed architecture, ensuring that everything is in one place.